Is someone in the chapter available to answer my questions about eligibility?
YES, please email us with questions and someone will respond promptly. We have many longtime members who have vast experience in the DAR as well as many who are proficient in genealogy and family research. We would be happy to help you determine whether you are eligible for membership. And if we get stumped we can bring all the resources of State and National Society DAR to the rescue.
My grandmother, (cousin, aunt, etc.) is/was a member. Can I join using her information?
Yes, as long as your relationship is lineal (direct line) and you submit your own appropriate information as well. You may be asked to verify proof concerning previous generations as the requirements have become more precise. All generations, starting with the applicant, must have proof of birth, marriage, and death. There must also be documentation regarding the service of the patriot. These may include copies of wills, probate, birth/death/marriage certificates, bible records, land records, tax rolls, military, published biographies, obituaries, or census records. Any previously submitted item need not be resubmitted.
"Family Legend" is that we are eligible for DAR but I don't know if anyone joined or that was "just talk." How can I find out?
Contact us. We can search the DAR database of members and ancestors. If we find a match it can make the application process much easier (and solve a family mystery). Photo is Rob Lowe using the DAR Library while filming a television program "Who Do You Think You Are?" sponsored by Ancestry.com.
Is DAR Political?
No. The DAR organization is non-partisan and endorses no candidates. We support the Country, its Constitution, its military, and its elected leaders. We strongly encourage everyone to exercise their right to vote, and do all we can to support the election process.
What is "lineal descent?"
Lineal descent means a direct bloodline descent, not a relationship through marriage. For example if your mother is a member, you and your daughters and granddaughters are all eligible. If your husband's mother is a member, your connection is by marriage so you are not eligible, but your daughters and granddaughters are lineal descendants of your mother-in-law (through your husband) and eligible to join DAR. For male lineal descendants, they would be eligible for Sons of the American Revolution (SAR).
Is there an organization for children?
There is the National Society of the Children of the American Revolution (C.A.R.), which is open to both boys and girls under the age of 21 who are lineally descended from a recognized patriot of the American Revolution. For more information visit the National DAR website.
What is a "Junior," "Associate," or "Prospective" member of DAR?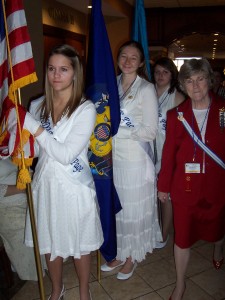 Members that join between the age of 18 and 35 are considered Juniors – in recognition of the energy and vitality they bring to DAR. They are called upon for special service and are eligible for special awards. They are full members in every way.
Associate Members are DAR Members that join a chapter in support of it without committing to the meetings and service projects.
Prospective members are ladies who have expressed an interest in preparing and submitting application papers to join DAR. Their application may be in any stage of completion. The chapter, state, and national level DAR will assist in their application process. They are cordially invited to attend all meetings and functions.