133 Years of Service: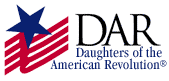 The National Society Daughters of the American Revolution (NSDAR) is a women's service organization, which since October 11, 1890, has worked to promote historic preservation, education, and patriotism.
As one of the most inclusive genealogical societies in the country, DAR boasts 177,000 members in 3,000 chapters across the United States and internationally. Any woman 18 years or older-regardless of race, religion, or ethnic background-who can prove lineal descent from a patriot of the American Revolution, is eligible for membership.
The National Headquarters is located in Washington DC. Encompassing an entire downtown city block, DAR National Headquarters houses one of the nation's premier genealogical libraries, one of the foremost collections of pre-industrial American decorative arts, Washington's largest concert hall, and an extensive collection of early American manuscripts and imprints.
We are a Centennial Chapter
The Colonel Benjamin Harrison Chapter of Monroe was formed in 1919 from members of a chapter in Shullsburg formed in 1909 (the Rhoda Hinsdale Chapter).  Now it is 104 years of service.
Currently there are thirty Chapter Members, two Associate Members, and six prospective members.
Members live in Southwest Wisconsin, except for a few that have moved to warmer climates. Our members volunteer in many ways including aid to the local schools, Lafayette and Green County Historical Societies, election observers, food bank support, Girl Scouts, hospitals, churches, veterans organizations, active military support – virtually any community service.
In addition to service, members attend the meetings and activities that we organize. Participating in state and national level events and service projects, magnifies our efforts. For example we were able to obtain matching grant funds from National DAR to fund the Darlington Area Veteran's Memorial. And we sent linens for soldiers returning from the Middle East within a Wisconsin DAR project. We conduct the DAR Good Citizens Award program for outstanding high school seniors in our area (15 schools). For more about what we do see the Activities page.